Grandparents Day 2021
Sunday, September 12th
Thank you for helping us raise over $6000 for Grandparents Day! Your support helps us support kinship caregivers and all families across British Columbia. 
Click here for our media release 
---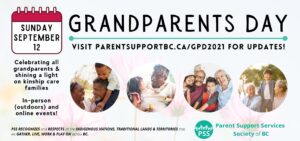 Every year, Parent Support Services celebrates Grandparents Day, which occurs annually on the 2nd Sunday of September. This is a day to celebrate all grandparents, and to shine a light on the grandparents who are raising their grandchildren and others who are raising a relative's child.
Thank you to all those who attended our festivities at Central Park, Burnaby on the 12th! It was great seeing people and enjoying the music, food, and community in the outdoors.
---
Grandparents raising grandchildren documentary