Grandparents Day 2021
Sunday, September 12th
---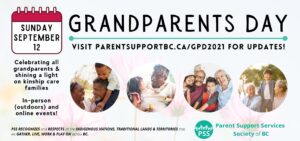 Every year, Parent Support Services celebrates Grandparents Day, which occurs annually on the 2nd Sunday of September. This is a day to celebrate all grandparents, and to shine a light on the grandparents who are raising their grandchildren and others who are raising a relative's child.
We are happy to announce that we will be hosting both on-site (Lower Mainland) and online festivities to celebrate Grandparents Day on Sunday, September 12th, 2021!
There will be activities for families and children in the outdoors of Central Park, Burnaby, in the Lower Mainland, as well as online festivities on our social media province-wide throughout the day.
Event details and times will be shared as they are finalised – stay tuned!
---
Grandparents Day Fundraising pages
Various staff and board members have their own fundraising pages, raising money to support PSS and helping us help families across the province. Visit their pages by clicking their names, and come back as more will be added!
---
Grandparents raising grandchildren documentary