Work With Us!
Current Job Openings
Posted May 7, 2021
Part-time summer student
administrative assistant for indigenous parenting coordinator
lower mainland
Working under the supervision of the Program Director and Indigenous Program Coordinator for Indigenous Parenting Program, the Administrative Assistant will assist in special and cultural event planning, awareness raising/parenting program related activities, partnership/sponsor/volunteer recruitment; outreach; promotion; research on professional devleopment resources; workshop/training planning. 
General Activities
Work closely with Indigenous Program Coordinator, staff and volunteers
Liaise with other staff of the Society including other summer work students using Zoom
Participate in other agency events (cultural celebrations, etc.)
Research on resources for volunteer's professional development
Build on the contacts and resources currently in existence for the program
Coordinate events for families, children and youth.
Assist in community outreach activities.
Assist with agency and program promotion.
Compile important Indigenous national events for recognition and celebrations i.e., Every Child Matters (Orange Shirt Day), MMIWG, etc.
Assemble training materials. Assist with community workshops and presentations.
Assist with file/data management.
Support the program team with any duties assigned
Qualifications
Must be between 15 and 30 years of age at the start of the employment;
Excellent written/oral communication skills
Market and promote the organization in the region
Able to work both as part of a team and independently
Identify volunteers for special events, and potential facilitators
Solid computer skills (including proficient use of internet, email, social media platforms and Microsoft Office programs).
Proven research skills
Basic understanding of family and parenting issues and community resources (desired)
Commitment to the values of diversity and inclusion
Ability to work within the guidelines of confidentiality
Knowledgeable of Indigenous History in Canada
Able to provide Culturally Safe conversations within the community
Please send resume & cover letter to: hr@parentsupportbc.ca
Cover letter: Must include how you self-identify and what Cultural Safety means to you.
**Please put Lower Mainland Administrative Assistant in the subject line.
Click here for the full job posting pdf
Closing Date: May 20, 2021 @ Noon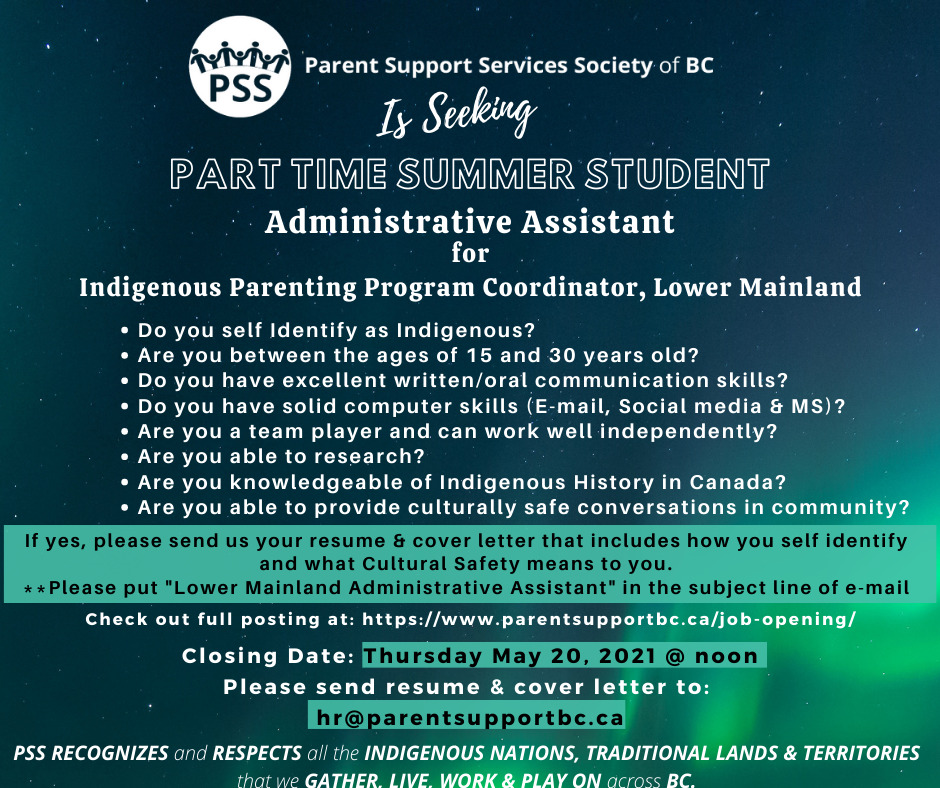 Posted March 31, 2021
Full-time Combined Position:
• Advocate-Social Worker, Kinship Care/GRG Support Line
• Interior Region Circle Coordinator
Full-time Combined Position—35 hours/week
Part Time (Jobshare) Advocate-Social Worker, Kinship Care/GRG Support Line
15-17.5 hours
Part Time Interior Region Circle Coordinator, 15—17.5 hours/week
This is a newly created position as a part-time Support Line Advocate and a part-time Interior Region Circle Program Coordinator
The incumbent will be accountable to the Executive Director or her delegate. All actions are carried out in accordance with the Society's stated mission, values and principles and in accordance with the BC Code of Ethics of Social Workers (and if applicable the Code of Conduct for Lawyers of the BC Law Society)
A) Kinship Support Line Position oversees the provincial Support Line; provide individual and systemic advocacy to kinship caregivers; provides social and legal information to caregivers; and other stakeholders. Shares accurate knowledge of kinship care & related legislations (CFCSA, the FLA, Bill C-92) & MCFD/child protection policy. Contributes to the evaluation and overall impact of the program.
B) Circle Work Collaborate with the Provincial Circle team, to expand the 3 existing regional Circles to a minimum of 6-8 circles by April 2023 through community development activities, community partnership volunteer recruitment training, support and program promotions in the Interior region. Oversee and ensure that we meet all targets and contribute to evaluations to determine the impact of the program in the region.
C) The Society contribute to the growth, development and impact of PSS overall and serves as an ambassador
REQUIREMENTS:
• Ability to set clear boundaries, multitask and adapt to a constantly changing environment
• Uses anti-oppressive (justice, equity, diversity, inclusion) perspectives, practices, analysis
• Provides confidential trauma-informed "warm line" services accompanying families to navigate systems
• Case manage and provide case-specific advocacy & necessary intervention at agency or ministry levels
• Liaise with MCFD Senior Policy Analyst to consult on Support Line casework, alert government to systemic barriers that callers encounter & to receive up-to-date policy and standards
• Contribute to the development & delivery of public legal education relating to kinship care, family law, MCFD policy for the Support Line and the coordination of parenting related Circle workshops
• Develops & maintains strategic relationships with key government & community agencies
• Demonstrate leadership in community development values and principles, knowledge of sound parenting practices and experience in program planning, social research and evaluation
• Excellent skills in volunteer recruitment, training, working cross culturally and across sectors
• Promotes best practice & maintains interagency networks & contacts relating to kinship care, the provincial advocacy community and regional networks
• Provide analytical critique of Support Line program, Circle Program & overall Society
• Demonstrate resourcefulness, tact and excellent judgment
• Proven ability to work independently, and as part of multiple teams
• Excellent report writing and verbal communication, PR and promotion skills
• Solid administrative skills including new technologies and social media and grant writing (desired)
• Additional languages and/or experiences working or living with Indigenous, Immigrant, LGBTQ and /or Incarcerated Communities (desired)
Skills and Training Required:
• Minimum Bachelor's degree in Social Work (Masters or equivalent preferred) or LLB
Must have a valid driver's license, access to a reliable vehicle, and the ability to host a home-based office.
Extension of contract is contingent on funding and results. Position will require travel to Metro Vancouver and around the Interior region
Closing Date: Until filled- ongoing reviewing of applications. Emailed applications must include cover letter, resume, contact information of 3 references. Attention: Executive Director. Please put, Combined Position in the subject line. Email: hr@parentsupportbc.ca – Only applicants selected for an interview with be contacted. We thank you in advance for your interest in this position. Applications will be reviewed as received.