Parenting is the most important and challenging
job that most adults undertake
Few parents, even in the best circumstances, do not feel frustrated at times by the demands of raising children. But when parents are isolated, involved in difficult relationships, experiencing financial stress, or lacking information on child development and child-rearing techniques, they can lose control.
Informed, effective child rearing builds strong communities by producing young people who work hard to create positive lives for themselves and those around them. Uninformed, ineffective child rearing jeopardizes the well-being of whole communities. Parent Support Services is a non-profit, volunteer-based society and registered charity founded in 1974. The mandate is preventing child abuse and promoting healthy parent-child relationships by supporting parenting, families, and communities. This is achieved by providing support and information to parents. The goal is building healthy communities, one family at a time.
Parent Support Services Workshops:
Click on any button below to view more information about each workshop or event.
Circle of Security – Parenting Series January 16th – March 7th.
We have some exciting news to share with you!
This new year we have partnered with Information Children to deliver a FREE, 8-week Parenting Workshop on 'Circle of Security' (COS).
If you aren't familiar with what Circle of Security offers, please check out the following link: https://www.circleofsecurityinternational.com/ This link is for those whom speak Spanish: https://www.circleofsecurityinternational.com/animations-spanish  
Starting January 16th, this FREE, 8-week workshop will take place every Thursday from 10:30 to 12:30 through to March 7th; Free childminding will be offered. There a only 10-12 spots offered. This is a first come, first serve registration. Those whom are interested must take into consideration that attending all 8 sessions are requested, as this helps parents/caregivers understand the concepts of COS better.
This workshop is best suited for parents/caregivers whom have children ages 0 – 12.
To register, or if you have any questions, please contact:
Daniela at Tel.: 604-669-1616 EXT.: 106 or email daniela.alvarado-torres@parentsupportbc.ca
Registered Education Savings Plans & Education Grant Workshop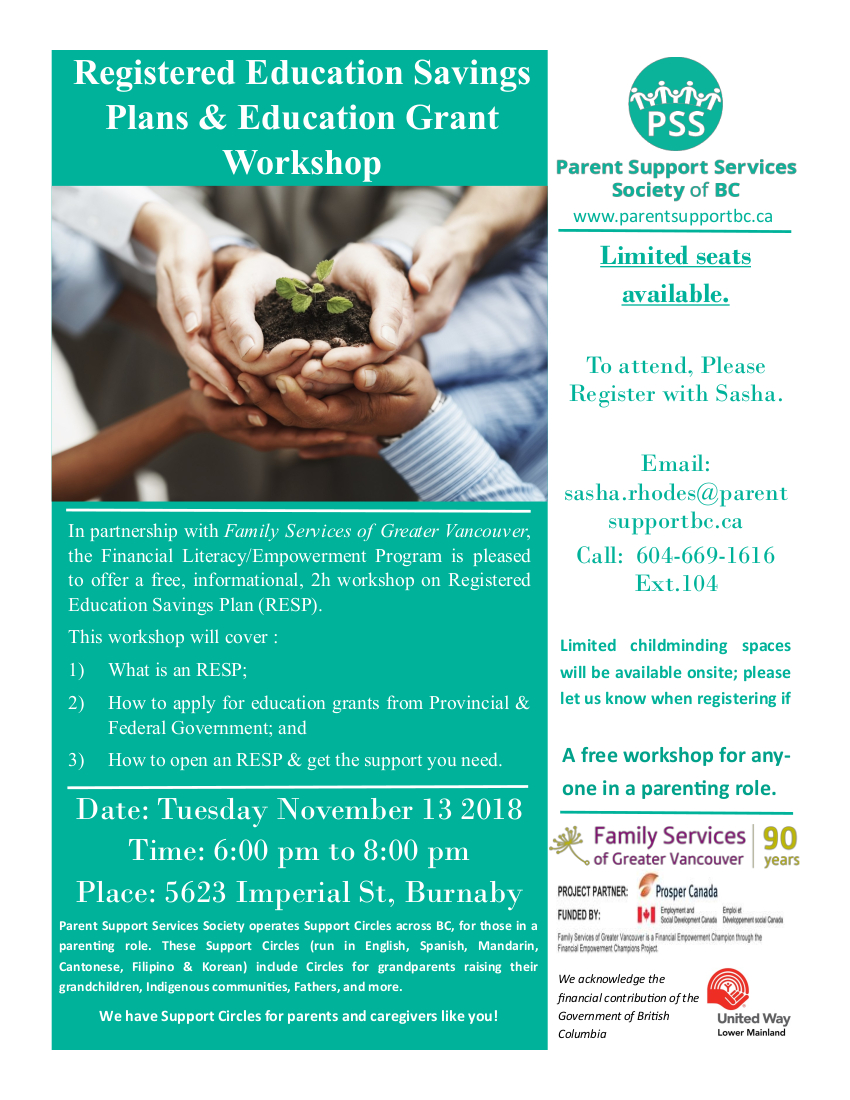 Parent Support Services Society of BC Presents:
Free, informational, 2 hr workshop on the Registered Educations Saving Plan
Date: Tuesday November 13, 2018
Time: 6:00 -8:00 pm
Place: 5623 Imperial St, Burnaby
This workshop will cover :
1) What is an RESP
2) How to apply for education grants from Provincial & Federal Government
3) How to open an RESP & get the support you need
Offered in partnership with Family Services of Greater Vancouver, the Financial Literacy/Empowerment Program
To attend, Please Register with Sasha.
Email: sasha.rhodes@parentsupportbc.ca
Call: 604-669-1616 Ext.104
Limited childminding spaces will be available onsite; please let us know when registering
Download our poster: 2018-10-24 RESP – Nov 13
Facilitator Training Vancouver Island BC – Oct 26-28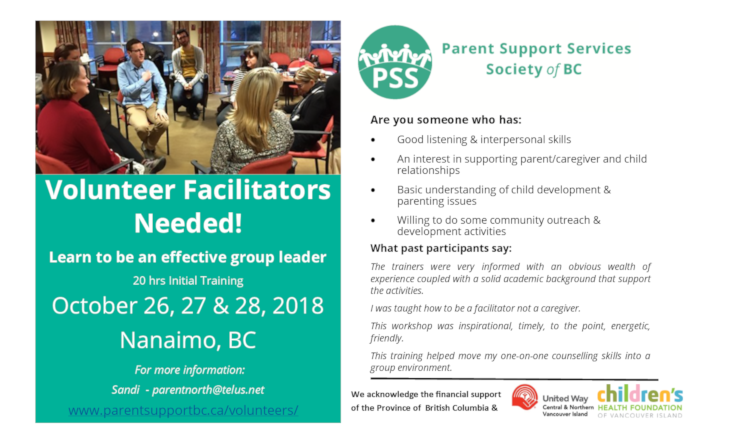 Volunteer Facilitators Needed!
Learn to be an effective group leader
20 hrs Initial Training
October 26, 27 & 28, 2018 Nanaimo BC
Full attendance required
Parent Services Society of BC offers volunteer led Parent Support Circles and Grandparents Raising Grandchildren (Kinship Care) Support Circles in many BC communities.
We have openings for volunteers in communities such as: Duncan, Nanaimo, and Parksville.
Are you someone who has:
 Good listening & interpersonal skills
 An interest in supporting parent/caregiver and child relationships
 Basic understanding of child development & parenting issues
 Willing to do community outreach & development
Benefits of this training:
 Initial facilitator training provided along with continuing education opportunities
 Develop skills for career and personal growth
 Support families in your community
 Letter of reference upon request (minimum 1 year commitment)
We ask our volunteers to commit 3-5 hrs a week for a minimum of 1 year. This allows our facilitators to develop relationships with the support circle participants within the context of the circle.
What past participants say:
The trainers were very informed with an obvious wealth of experience coupled with a solid academic background that support the activities.
I was taught how to be a facilitator not a caregiver.
This workshop was inspirational, timely, to the point, energetic, friendly.
This training helped move my one-on-one counseling skills into a group environment.
For more information please contact:
Sandi at 250-468-9658
Email sandi@parentsupportbc.ca
Or call us toll free at or 1-877-345-9777 or visit www.parentsupportbc.ca/volunteers/
Download a poster about the training here:
Body Science: When, Why and How to Talk to Our Children About Sex – Burnaby Feb 15
BODY SCIENCE: WHEN, WHY AND HOW TO TALK TO OUR CHILDREN ABOUT SEX
What:This workshop will be led by a trained professional who will facilitate an open discussion on child development and the 'when, why and how' on communicating with our children about sexual health.
Where: 5623 IMPERIAL ST, BURNABY
When:THURSDAY FEBRUARY 15TH 10AM-12PM
How to Register:contact Daniela daniela.alvarado-torres@parentsupportbc.ca 604-669-1616 Ext.106
Limited childminding spaces will be available onsite; please let us know when registering if you will require childminding.
Click here for poster: 2018-01-29 Body Science – Workshop
The Essence of Adolescence: Parenting Teens and Teening Parent
Watch for more information
Parenting and The Whole Brain Child Workshop – October 24
Parent Support Services Society of BC  workshop on 'Parenting & The Whole-Brain Child' is facilitated by Dr. Max Innes, family therapist. He introduces an approach to parenting that focuses on providing practical ideas that are effective and in keeping with recent findings from neuroscience, child brain development, and behaviour.
Next workshop:
Wednesday, October 24
6 – 8 pm
5623 Imperial St
Burnaby, BC
Volunteer Facilitator Training Prince George – Nov 3-4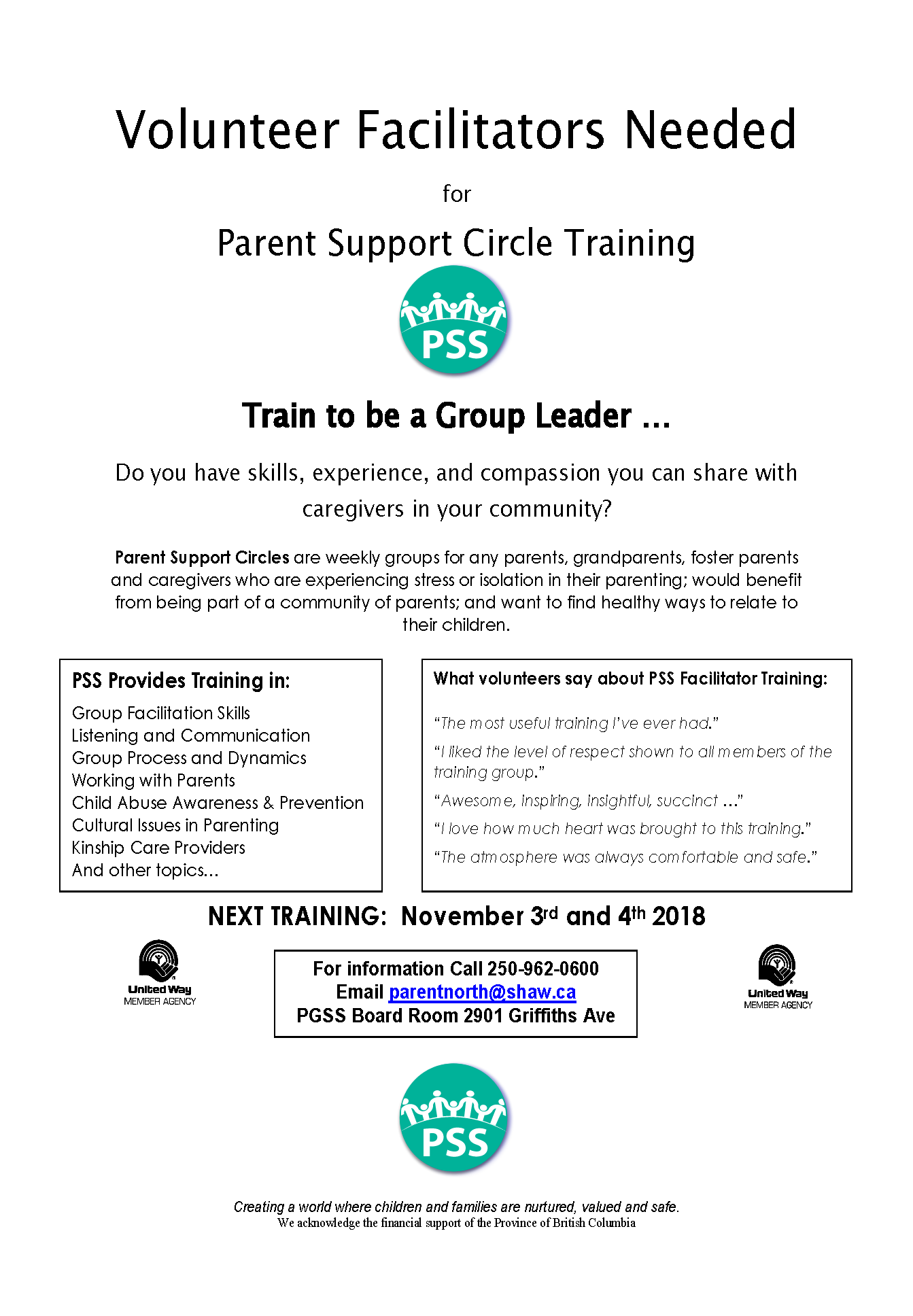 Volunteer Facilitators Needed in Prince George for Parent Support Circle Training
Train to be a Group Leader – November 3 and 4
Do you have  skills, experience, and compassion you can share with caregivers in your community?
Parent Support Circles are weekly groups for any parents, grandparents, foster parents, and caregivers who are experiencing stress or isolation in their parenting; would benefit from being part of a community of parents; and want to find healthy ways to relate to their children.
PSS provides training in:
Group Facilitation Skills
Listening and Communication
Group Process and Dynamics
Working with Parents
Child Abuse Awareness & Prevention
Cultrual Issues in Parenting
Kinship Care Providers
And other topics…
What volunteers say about PSS Facilitator Training:
"The most useful training I've ever had."
"I liked the level of respect shown to all members of the training group."
"Awesome, inspiring, insightful, succinct…"

"I love how much heart was brought to this training."
"The atmosphere was always comfortable and safe"
For more information or to apply call 250-962-0600 Email parentnorth@shaw.ca
Download poster here: Group Facilitator Training Poster Nov 2018
Raising Our Children: the Role of Discipline Workshop
Watch here for more information.
Blissful Parenting Workshop – Nov 27 Burnaby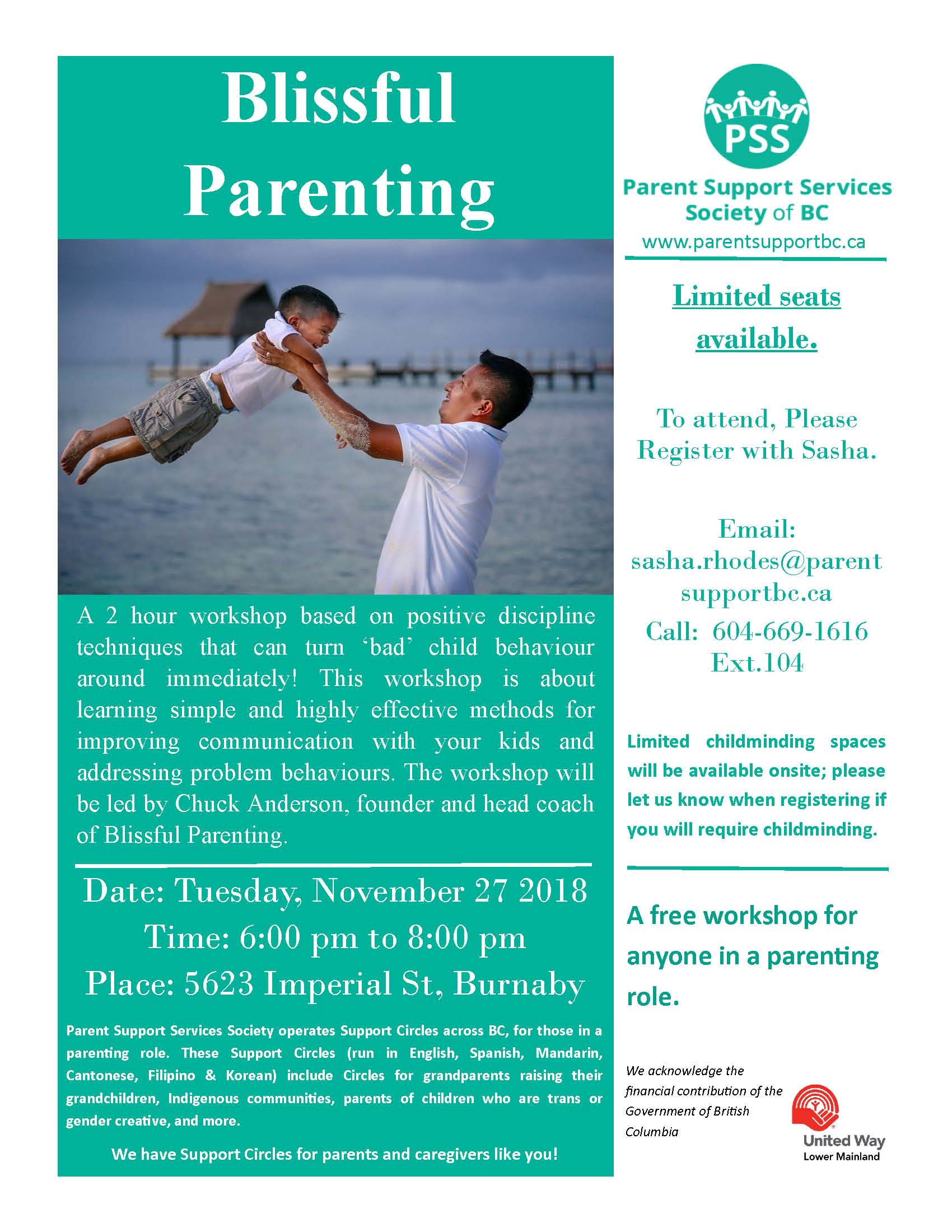 Blissful Parenting is a 2- hour workshop FREE workshop based on positive discipline techniques that can turn "bad" child behavior around immediately! This workshop is about learning simple and highly effective methods for improving communication with your kids and addressing problem behaviours. Workshop facilitator Chuck Anderson has an energetic and engaging presentation style that uses the latest accelerated learning techniques and a high level of audience involvement. This training is specifically adapted to helping parents of children & teens deal with the many behavioural issues that come with the job of being a parent.
Date: Tuesday, November 27, 2018
Time: 6:00 pm to 8:00 pm
Place: 5623 Imperial St, Burnaby
To attend, Please Register with Sasha.
Email: sasha.rhodes@parentsupportbc.ca
Call: 604-669-1616 Ext.104
Limited childminding spaces will be available onsite; please let us know when registering if you will require childminding.
Download the poster: 2018-10-24 Blissful Parenting – Nov 27
Best Practices for Parenting
Other Parent Education Services
Click on any button below to view more information about each workshop or event.
Vancouver February Parenting Workshop
Click on the button below to view parenting workshops in Vancouver – when available.