Interior British Columbia
Click here for information about our Online Support Circles in operation during COVID-19
Please click here for our Circle referral form. 
Interior BC Regional Program Coordinator – Cassandra Strain
TEL: (250)-384-8042
Email:
cassandra.strain@parentsupportbc.ca
For more information or to join a Circle contact Cassandra.
Our Provincial Toll Free # 1-877-345-9777
To contact our Grandparents Raising Grandchildren Support Line
1-855-474-9777 grgline@parentsupportbc.ca
---
Volunteer Facilitators Needed for Online Parenting Circles
Are you someone who has an interest in supporting parents/caregivers and child relationships? Join our team as a volunteer facilitator for our online parenting circles!
For more information, click here for the flyer, or contact Cassandra at cassandra.strain@parentsupportbc.ca or (250)-384-8042
To apply, visit: parentsupportbc.ca/volunteer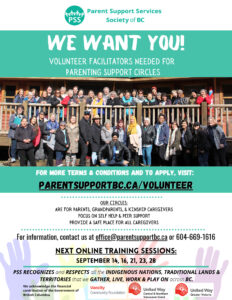 KAMLOOPS
Kamloops Grandparent & Kinship Care Circle (on Zoom)

Every 1st Monday of each month at 7 pm
For information and to register, visit: bit.ly/provcircleform or call: GRG Support Line: 1-855-474-9777 OR Cynthia: 250-572-4690
Click here for the flyer

SALMON ARM
Salmon Arm Grandparent & Kinship Care Circle

During COVID19, the Circle meets online and GRG and kinship caregivers are also provided with phone support.
For information and to register, call GRG Support Line 1-855-474-9777 OR Mary (250-833-6379) OR Jennifer (250-517-7557); bit.ly/provcircleform

KELOWNA
GRG Circle in Kelowna

During COVID19, in-person meetings are cancelled, GRGs and kinship caregivers are provided with phone support.
For more information and to register, call the GRG Support Line at 1-855-474-9777 OR bit.ly/provcircleform