Join our amazing team of volunteers!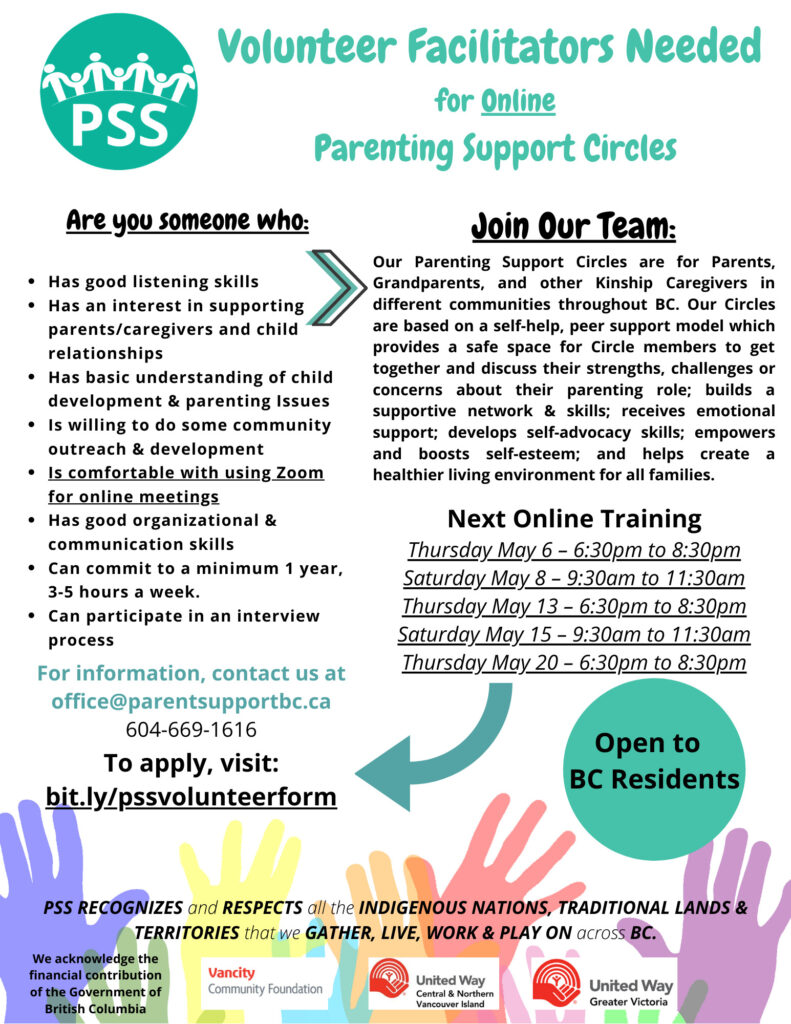 We are currently recruiting volunteer group facilitators for many communities in BC, this includes Vancouver Island, the lower mainland and Fraser Valley, the Interior and northern communities.  The lower mainland is specifically looking for facilitators who speak Korean, Cantonese, Mandarin, Spanish, & Filipino.
We are also recruiting volunteers for our new Lower Mainland Indigenous Circles and for Chinese, Filipino and Latin-American steering committees.
Our Initial Volunteer Facilitator Training is now offered on line.
Thursday May 6 – 6:30pm to 8:30pm
Saturday May 8 – 9:30am to 11:30am
Thursday May 13 – 6:30pm to 8:30pm
Saturday May 15 – 9:30am to 11:30am
Thursday May 20 – 6:30pm to 8:30pm
Portions of the training are self paced and must be completed prior to attending the scheduled training sessions.
To be considered for the next training please submit your application on line here (bit.ly/pssvolunteerform) by April 1st, 2021
The self paced portion of the training will begin in mid to late April and the training will be completed by the end on May
For more details our training flyer can be found here.
This is a great opportunity to meet like-minded people, contribute to a meaningful cause, and learn valuable skills.
Volunteer Facilitators are the backbone of our program.  We have volunteers working with our Parenting Support Circles which meet across the province, in different languages and with diverse parents/caregivers.