For all events below, feel free to contact Danella Angus, Indigenous Parenting Program Coordinator at 604-669-1616 ext. 104 or danella.angus@parentsupportbc.ca for more information.
Live Online Oral Storytelling with Kung Jaadee via Zoom: Wed. Jun 30, 2021 @ 6:30 pm
PSS is pleased to announce our upcoming Live online storytelling with Kung Jadee on Wednesday June 30, 2021 at 6:30pm. You can watch live on our facebook page or you can sign up to be invited to our Zoom where you are able to ask questions after the storytelling.
sign up at: https://bit.ly/storytellingpss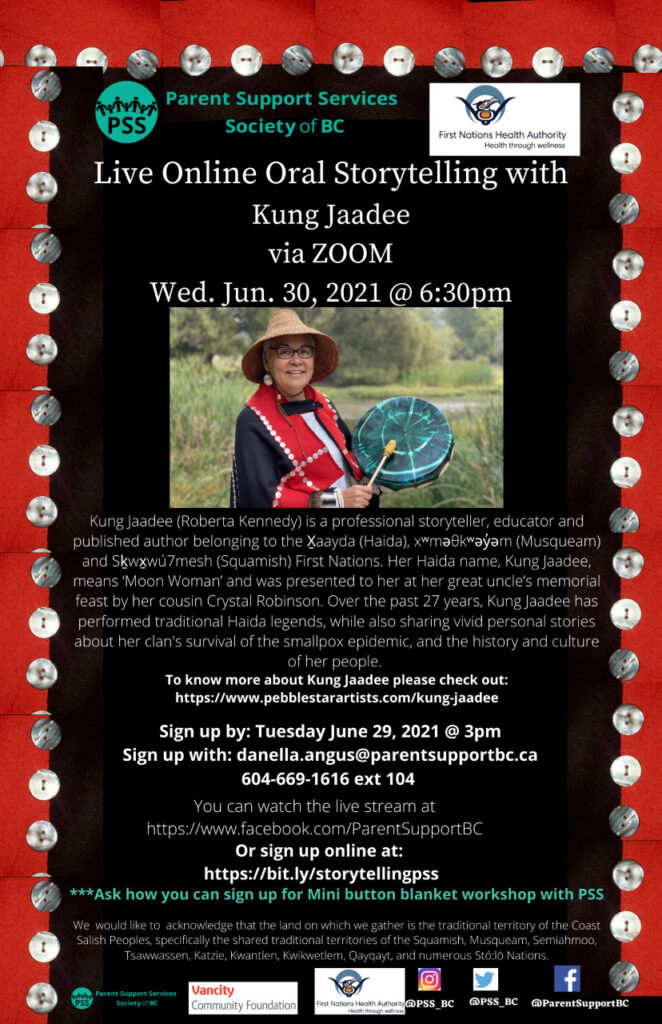 Mini Button Blanket Making Workshop (In Collaboration with FNHA Day of Wellness) – July Zoom Sessions
PSS is excited to announce another "Mini Button Blanket Making workshop" this year in collaboration with FNHA. These workshops are for BC residents only as there is a limited number of kits available. We are pleased to also offer special guest speakers for our Kinship care providers group.
please sign up at: http://bit.ly/pssbutton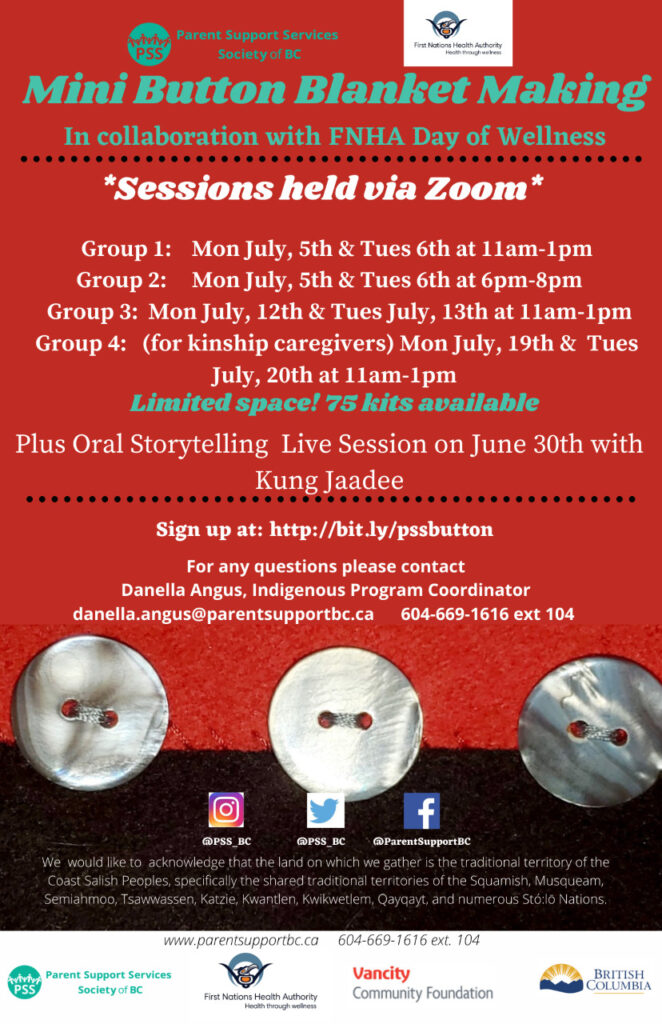 Mini Button Blanket Making with PSS: Kinship Caregivers – July 19th and 20th, 11 am – 1 pm, with PSS Guest Speakers
Attention Kinship Care Providers, PSS is offering a Two-Day Mini Button Blanket Making Workshop in collaboration with FNHA on Monday July 19 & 20, 2021 from 11am to 1pm. We will also have special guest speakers from PSS, Jane Bouey, Mobilization and Christina Campbell Grandparents Raising Grandchildren Support Line Advocate.
You can sign up online at http://bit.ly/pssbutton